yellow and black room divider screen made from pine and old 33rpm records
67 3/4" tall, stands approx. 55" wide
hand woven woollen scarf.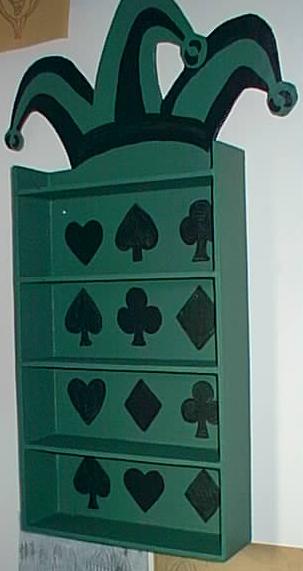 small shelf for spices. papier mache over plywood and cardboard with playing card motif
14 3/4" x 4" x 34 1/2".










old lamp brought to life with paint and hand made bead chain shade.
hand woven wool and cotton scarf.
as the name suggests, items that don't fit anywhere else right now. many of these projects were experiments in a new medium. some, such as the weaving, we would like to explore further.
apron decorated with food goddess image done in batik.
old mirror frame decorated with small faces
31" x 19"
small table with mosaic top
16" x 16" x 18"
sheet steel mirror frame
12" x 9"
prototype for top cut and sewn from 2 woven panels
31" x 19"